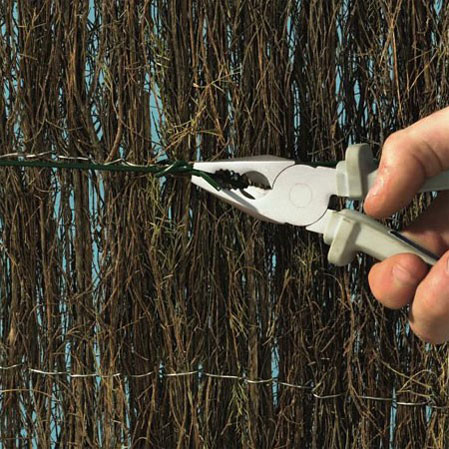 How to fix garden Screenings

All roll formed fences such as split bamboo, reed, willow, brushwood or bark are erected in a similar way. The exact method will depend upon what you are fixing it to and how exposed (to the wind) your site is. In any case fixing must be secure with frequent points of attachment if wind damage is to be avoided.

The easiest situation is when you are using the rolled fence to mask an older wooden fence. As long as the old fence is firm and flat and as vertical as you want the new fence to be, then it is simply a matter of securing the roll fence to the wooden fence every 100mm or so horizontally and every 500mm or so vertically (i.e. top middle and bottom for a 1m high roll fence). You can fix using 1mm galvanised wire or cable ties if that is convenient, otherwise use 15 or 20 mm staples. In either of these cases attach the wire that joins the bamboos (or other material strands – willow, brushwood etc) to the fence, not the fencing material itself; never drive a staple through bamboo or it will be seriously weakened. The third option is screwing the roll material to the wooden fence, but this will only work for bamboo. In this case pre-drill the bamboo with a hole large enough to let your screw pass through without fouling the wood, and do not overtighten the screws.

If you are attaching the roll fence to a chain link wire fence and you are on the flat side, you can just wire the two together using 1mm galvanised wire or cable ties every 100mm horizontally and at least every 500mm vertically as above. If, however you want to clad the side of the chain link fence that has the posts you will have to provide a top and bottom rail – 50mm x 50mm cedar is ideal, bolted or screwed to the fence posts. If the roll fence is more than 150mm high you will need a middle rail too. Attach at the usual spacings, in the normal way (see above) to the rails and if necessary to the chain link.

If you have no support already in place you will need to provide some 75 x 75mm posts every 2m and 75 x 50mm stringers every 500mm vertically. The posts should go into the ground for 50% of the height of the fence and be surrounded by 50mm concrete on all 4 sides and the bottom. If you have firm, not waterlogged ground you can use Metposts. If you stop any concrete 75mm below the surface you can cover with soil or gravel to maintain the required surface. Ensure all timbers are suitably treated or you will find that they rot very quickly!

Wherever cable ties are used the excess plastic should be cut off for neatness.