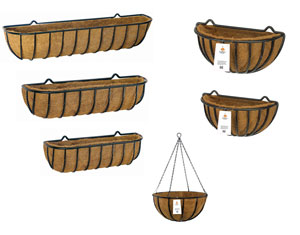 Country Forged Wall Troughs and Hanging Baskets

These country forged wall toughs, window boxes, wall baskets and hanging baskets are called the Country Forged range and are heavy duty garden planters made from solid steel square sections with strong welding. These planter boxes will enhance the garden and patio areas with colour and interest throughout the year. All this range of flower boxes and hanging flower pots are finished with a black powder coating finish which allow all year round use, preventing discolouring and rusting.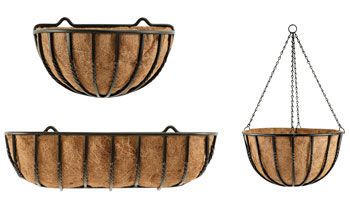 Heavy Duty Country Forged Basket Range

This range Country Forged range of hanging basket and window boxes planters are top quality 9mm round metal bar for durability and for maximum strength for years of use. These window sill planters are design to fit each basket a premium quality coco liner which have excellent water retention as well as good aeration for root formation. These handcraft baskets feature twist front bars for deco and good looks, finished with a strong and durable black powder coating over protection from weathering and rust.